With Christmas just around the corner, supermarkets and shops across the country are filled up with Christmas snacks and treats strategically placed to catch your eye as you navigate the aisles on your weekly shop. The problem? Most of these Christmassy treats are not suitable for a vegan diet. So, we've compiled this handy guide to vegan snacks over the Christmas period. From making your own to buying online and in store, we hope these ideas will help you enjoy some great tasting, indulgent, and sometimes healthy vegan snacks at Christmas.
Vegan christmas snacks you can make at home
VEGAN PROTEIN GINGERBREAD HOUSE
What better way to kick off the guide than a recipe for a Christmassy gingerbread house! This Christmas recipe is great for individuals or families, and it doesn't just taste great – it's a great activity too. Decorate it however you like and enjoy!
PUMPKIN, OAT, AND GINGER CHOCOLATE CHIP COOKIES
While this is a Halloween recipe, it can easily be turned Christmassy by using a reindeer, Christmas tree, star, or Santa cookie cutter. Just cut out the cookie dough using your desired shape, bake, and decorate using coloured icing.
PROTEIN INFUSED HOT CHOCOLATE
Christmas wouldn't be Christmas, and winter wouldn't be winter without a deliciously warming hot chocolate. Our protein infused hot chocolate recipe is great for cold winter nights and even has the benefit of a good hit of protein too!
SINGLE SERVE STICKY TOFFEE PROTEIN PUDDING
A great alternative to Christmas pudding for those that aren't fans or just an indulgent dessert to be enjoyed at any time over the Christmas period, this vegan sticky toffee pudding is divine!
BERRY, AVOCADO, OR COOKIE DOUGH TRUFFLES
Three for one here! Whether you're looking for a homemade treat to gift loved ones this Christmas, or a delicious snack for the table, these vegan truffles delicious and indulgent – perfect for Christmas. Choose from Protein Cookie Dough Truffles, Berry Protein Truffles, and Avocado Protein Truffles. Or just make all three!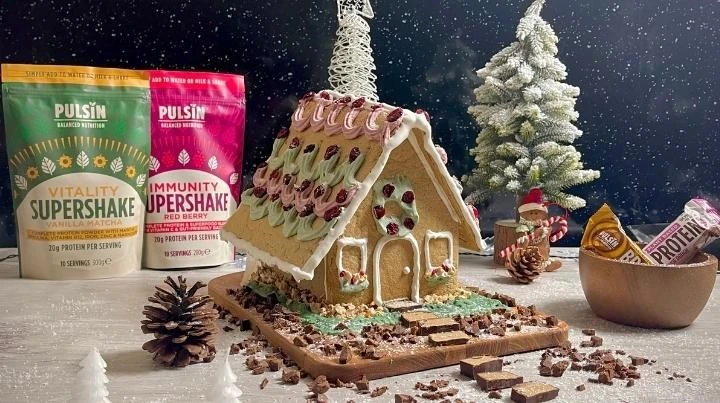 Vegan Christmas snacks you can buy online or in-store
Great for a quick and easy snack, our brownie, protein, and keto bars can be enjoyed all year round, not just at Christmas. Our entire range of snack bars are vegan, gluten free, and naturally indulgent. Perfect for some guilt-free snacking this Christmas.
PURELY PLANTAIN CHIPS
Crisps – a staple Christmas snack to have available for anyone who fancies a nibble while visiting over Christmas. Purely's plaintain chips are vegan, gluten free, and come in three distinct and delicious flavours – Nice & Spicy, Sea Salt, and Wild Garlic. Grab a few sharing bags, ready to entertain guests this Christmas. You can pick up these delicious snacks from our website, the Purely website, or at Harrods, Ocado, TK Maxx, Selfridges, Fortnum & Mason, Holland and Barratt, and more.
There you have it, delicious vegan snacks to enjoy at Christmas that you can either prepare at home or purchase, ready-to-eat!