Kick start your healthy living New Year's resolution by taking part in Veganuary with these 31 vegan recipes
With January and a New Year coming up, you may be thinking about your New Year's resolutions and getting involved with Veganuary, if you're not vegan already that is!
If you're trying Veganuary for the first time, welcome! We hope these 31 vegan recipes inspire you and prove that vegan food can be delicious as well as healthy and good for the environment.
If you've tried Veganuary before and are returning for another year, or you're vegan already and are just looking for some great tasting vegan recipes that are easy to follow, enjoy!
Below are 31 vegan recipes for you to try each day during January and all of them can be found on our website.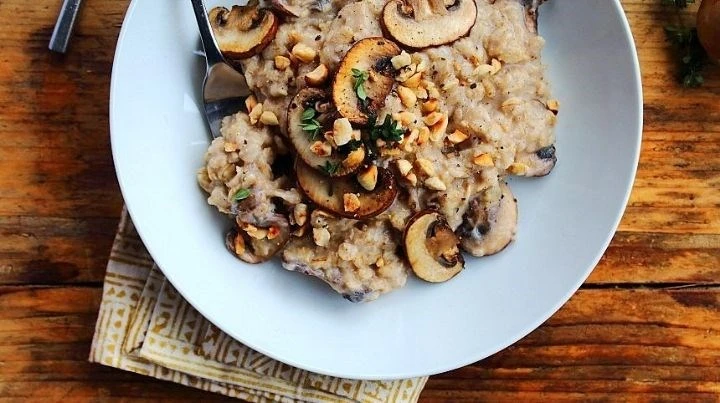 31 Delicious vegan recipes to try during Veganuary
Filled with seeds and blueberries, and packed with protein, these muffins are a great way to kick-start your day.
2. VEGAN PROTEIN CREPES
Healthy, delicious, easy to make, and sweet, these protein fuelled pancakes are the perfect breakfast for those with a slight sweet tooth or who fancy a little healthy treat in the morning.
3. APPLE CINNAMON SPICED PROTEIN OATS
A comforting hug in a bowl, these protein oats, laced with cinnamon and apple, will provide you with a heartening boost in the morning.
4. CHUNKY PROTEIN GRANOLA
Perfect for batch cooking, this delicious protein granola with ensure you get your day off on the right track.
5. CHOCOLATE PUDDING PROTEIN OATS
Made with our Energy Cacao & Maca Supershake, this chocolatey breakfast (or dessert, depending on your preference) will give you a real, sweet energy boost.
6. RHUBARB AND STRAWBERRY OAT BREAKFAST BARS
Flapjacks for breakfast? Yes please! These breakfast bars are great for using up fresh, seasonal rhubarb and are the perfect breakfast treat for anyone that needs to eat on the go.
7. STRAWBERRY MANGO PROTEIN SMOOTHIE BOWL
Wondering where all the smoothies were? Yes, we know most healthy vegan recipe lists are filled with smoothies for breakfast, so we only include the best smoothie recipes on our website! Like this deliciously thick and creamy bowl of goodness.
8. PROTEIN QUINOA FRITTER
Suitable for breakfast, lunch, or dinner, this quinoa fritter can be whipped up in a jiffy and provides a nice little protein kick too!
9. PROTEIN BANANA OAT MUFFINS
Muffins for breakfast. Need we say more? These are great for an on-the-go protein boosting breakfast. Simply make a batch up in advance and grab and go on the day.
10. FLUFFY PEANUT BUTTER PROTEIN WAFFLES
Another "need we say more" breakfast – waffles! These are great as either a protein fuelled breakfast or served as a delicious post-workout dessert with a healthy dollop of ice cream.
11. VEGGIE-PACKED QUINOA NUGGETS
Ok, technically vegan nuggets (if the type of mustard you use is vegan), these are a great addition to any lunchbox, with a generous protein hit!
12. TOFU TACOS WITH PROTEIN MOLE SAUCE
Tacos with a chocolate protein sauce? Sounds crazy but it is absolutely delicious, healthy, and nutritious.
13. DAIRY FREE PROTEIN MAC AND CHEESE
This vegan cheese sauce recipe is perfect for making vegan mac and cheese with vegan macaroni. "Cheesy" and delicious, this makes the perfect comfort dinner.
14. PEA PROTEIN QUINOA CAKES
High in protein, vegan friendly, can be served warm or cold, super delicious – I mean, what more do you want?
15. MUSHROOM OAT RISOTTO
Risotto is delicious, indulgent, comfort food, and this mushroom oat risotto ticks all the right boxes. We've even given it a protein boost with our Unflavoured Rice Protein.
16. SPAGHETTI SQUASH PROTEIN FRITTERS
Just like an armadillo – crispy on the outside, soft in the middle, these fritters are perfect for family dinners, in a lunchbox, or as a side dish.
17. SWEET POTATO PIZZA
Pizza. Enough said. Although this recipe contains egg whites and yoghurt, you can easily replace these with vegan alternatives to make this recipe vegan, which is why we thought it worth including.
18. OVEN-BAKED MEDITERRANEAN RISOTTO
This risotto is easy to make with minimum effort but tastes divine. A delicious recipe, full of vegetables and packed with Mediterranean flavours, this meal is a great source of vitamin C and the beans add a good dose of protein to the meal.
19. BEETROOT AND CHICKPEA PLANT-BASED BURGERS
For anyone that used to be a meat eater, finding a good vegan burger substitute is like searching for the holy grail. The best thing about this recipe? It's so easy to make! Just whizz everything up in a blender and you're good to go!
20. BROCCOLI FRITTERS
Turn that side vegetable into the main star with this fritter recipe. Broccoli is a great source of vitamins C, A, K, and B9; potassium; phosphorus; and fibre. It even contains protein. Just swap the eggs in this recipe for a vegan alternative and boom.
21. ALMOND BUTTER PROTEIN NANAIMO BARS
Oooooh baby! These are so delicious, they look gorgeous, and they're packed with protein! What more could you want? A decadent, naturally sweet treat.
22. SINGLE-SERVE PROTEIN COOKIES
Technically, you're getting a two-for-one recipe here, you lucky devils. Choose from the snickerdoodle or s'mores brownie cookie. Or just make both – we don't make the rules.
23. CHOCOLATE BANANA PROTEIN PANCAKES
Chocolatey, sweet and filled with protein, these thick and fluffy pancakes are sure to please!
24. PROTEIN ENGLISH MUFFIN
Top these delicious, protein-packed muffins with whichever vegan topping you like for a delicious, gluten-free and vegan treat.
24. HAZELNUT WHIP PROTEIN BAR
A vegan chocolate bar that you can easily make at home, and which is jammed with protein? What more could you ask for?
25. PROTEIN COOKIE DOUGH TRUFFLES WITH CHICKPEAS
These are good. Really, really good. Little cookie dough truffle balls, that give a lovely little protein boost with each bite. Mmmmm.
26. NO BAKE CHOCOLATE PROTEIN MACAROONS
These are so easy to make, with no baking required, and can be stored in the fridge or frozen and saved for later (if you don't eat them all straight away that is!)
27. VEGAN MACA PEANUT BUTTER COOKIE SANDWICHES
Packed with protein and absolutely delightful, these nutty little treats are perfect for a vegan cookie type mouthful of deliciousness.
28. VEGAN PROTEIN CINNAMON ROLLS
Forget Starbucks, Costa, or any other coffee shop cinnamon rolls – make this vegan alternative and give yourself a little protein boost in the process. You won't regret it.
29. VANILLA KETO COINS
These little coin-shaped treats are the perfect vegan protein-packed snack for anyone following a keto diet. But you don't need to be on a keto diet to enjoy these!
30. CHOCOLATE MACA AVOCADO PROTEIN MOUSSE
Chocolate. Mousse. Do you need any more explanation than that?
Last but not least, this rocky road bar is a real treat for the taste buds!