In September of 2016 fit and healthy Chris Currie was diagnosed with Bowel Cancer followed by a major stroke; just aged 36. Here is his story in a 3-part series.
Part 1
Who is he and what happened?
This came as a huge shock. I was very fit and active before, running, swimming at lunch and playing sports in general every week. I was told the news surrounded by family in my hospital room. My reaction to the news was 'what do we do next' I said this calmly, not panicking about the outcome, this helped to process the next steps. Luckily the cancer did not spread around my body. A series of tests led to me having surgery on 19th October 2016, but I remained upbeat and positive going into it.
Hospital journey
The first operation removed the cancer successfully, however due to a leak I required a second op. Complications then led to me suffering a major stroke paralysing my body, unable to move the left side. I spent around a week in ICU with wires around me, which was very tough and confusing. I was being fed through tubes, I was very malnourished at this point. There was a moment in the ICU, where I was very thirsty and needed a drink, I was only having small mouth water sponges which I could absorb but it just wasn't enough, seeing as I just had a 6-hour operation and a stroke on top. I was having to write on pieces of paper to communicate.
The nurse allowed me to have a Callippo ice lolly which I could only have a small portion of.It tasted like the best thing I'd ever had. Relieved I could taste something, I then spent a further 7 weeks in Kings College hospital London, facing intensive rehabilitation. It was very challenging both physically and mentally. My life as I knew it had gone. Taking my weight from a healthy 15 stone to 12 stone at a height of 6ft 5in. I was still so weak with muscle waste continuing, unable to move much. After another week or so I was able to start eating solid foods, and doing simple exercises in the bed which was challenging. Being hoisted out of the bed was frustrating, but I knew it was the only way to get me out of bed to the Neuro gym after a couple of weeks. Standing up from chair to plinth was tough and I would faint as my blood pressure was low. My resting heart rate bpm was very high at 130.
I started to acclimatise and I could eventually stand on 1st December. This was a big milestone, but I still had a long road ahead. Even at this point, it was just nice to get out the bed and see people, plus I thought just take your time, as my brain had been hugely impacted and I was unable to move both the upper and lower limbs that well. It was frustrating looking out of the window just thinking I want to be out there, but I knew it was going to take time and perseverance.
There was a funny moment in the ward, where there were building works outside due to the new first floor ward being built; we were on the 5th. Keeping us up at 2am in the morning as the wrong cement was laid. We would throw sweets (skittles) over our curtains, just to have some fun. Next morning the nurses were amused and would ask, who did this, naturally we would all blame eachother. These were the good times despite where we were.
This is the first part of Chris's story on his road to recovery, look out for part 2!
CHRIS'S PULSIN TOP PICKS
I love adding the Unflavoured Pea Protein to my smoothies in the morning or pre/post workout for a boost!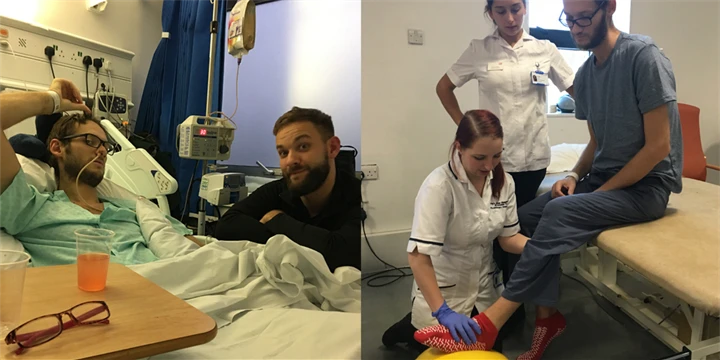 Chris Currie
Chris Currie Cancer and Stroke survivor with a goal of becoming a fitness and health advocate. He is currently rebuilding from the ground up, with a deep passion for passing on his life lessons to others. Chris is a firm believer that if you take mini vision micro steps towards any obstacle challenge or goal, you will find a new path that will guide you to help manage anxieties. Cementing new habits and installing positivity into your subconscious mind.