Our high protein low sugar bars are here… and they're covered in choc!
They're here! We have launched our exciting new range of choc covered protein bars and we can't wait for you to try them. The choc covered range is a new concept for us at Pulsin, offering a naturally indulgent take on our classic snacking range. These low sugar protein bars are perfect for those looking for an alternative to traditional confectionary items, such as chocolate or high sugar bars.
Made in the UK at our Gloucestershire HQ, our new range has been designed for guilt-free snacking and is made using only the highest quality ingredients we can get our hands on. The gluten free protein bars are packed with the highest amount of plant based protein in our snack range and contain the least sugar too, coming in at under 1g of sugar per bar.
Like the existing Pulsin snacking range, these new high protein nutrition bars also benefit from being vegan, gluten free and contain no artificial ingredients, preservatives, or palm oil. So, you can snack happy!
We started producing our first energy balls in 2006 and have grown and grown since then, focusing on feel good snacking and sports nutrition products. We have sold more than 60 million bars and 650 tonnes of protein powder since launching and are SO excited to continue providing our customers with products they love.
What makes these the best protein bars? Let us tell you…
Our naturally indulgent range of choc covered vegan protein bars will become your new go to pre/post workout snack or to help keep you energised between meals! Our in-house nutritionists have worked hard to create a nutrition packed bar that tastes naughty, but is sure to leave you feeling good. Enrobed in a yummy plant based choc, each bar contains a whopping 15 grams of protein and under 1 gram of sugar. We're confident these will become your new favourite!
These vegan snack bars also contain our secret ingredient, pea protein, which is rich in iron and zinc and is an ideal source of protein for vegetarians, vegans and athletes. You can read more or purchase our Pea Protein here.
The other super vegan protein powders we use in these bars are Faba Bean Protein and Rice Protein. Our Faba Bean Protein is one of the newest protein powders in our range. It has a really high protein content, sitting at 88%, and has a very neutral flavour, meaning it is great for those who are not fans of the traditional "protein powder aftertaste". Our Brown Rice Protein has a high digestibility and amino acid profile, plus it is lower in salt than most alternative vegan proteins.
You can find our full protein powder and shake range here. There's lots to choose from, from unflavoured to flavoured, plant based or whey protein and for those looking for added extras, we have a Keto protein powder, formulated for those following a low carb or keto diet and a range of Supershakes with added vitamins and minerals. Our powders are perfect for enjoying on-the-go as protein shakes or in smoothies to support your fitness and health goals or just for an energy boost. They are also great used in various recipes such as peanut butter protein flapjacks or protein pancakes. You can find our full list of recipes here.
Now you know what's in them, let us tell you about the new flavours! These delicious vegan protein bars are available in two mouth-watering flavours: Cookie Dough and Choc Fudge. Hungry yet?
Choc chip cookie dough protein bar
Our super indulgent choc covered Cookie Dough Protein Bar is just the high protein bar to hit the sweet spot! We particularly love tucking into a bar whilst out on a walk, as a 3pm pick-me-up or before the gym for extra energy… With a naughty but nice cookie dough like consistency, you'll never be short of reasons to enjoy one!
Choc fudge protein bar
Our choc covered protein fudge bar is just as mouth-watering with a fudgy, comforting texture and flavour. It's the perfect boost to power you through your day! As our bars are plant based they are ideal for topping up your protein intake, whatever your diet.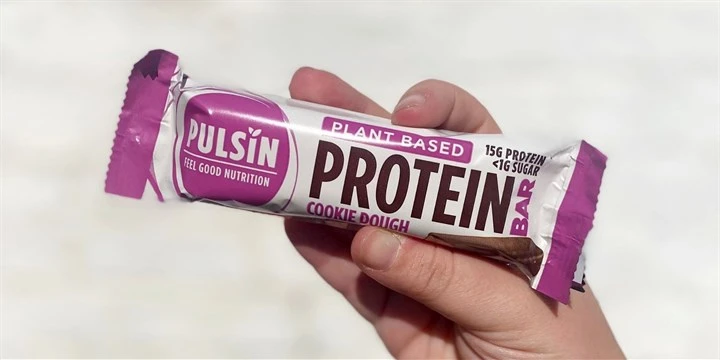 Hattie Dawson, Marketing Manager at Pulsin, says: "We have seen a growing demand for indulgent, great tasting, plant based snacks and protein bars within the snacking market. Producing our bars on-site at our Gloucestershire HQ and with a history of producing nutrition-lead bars, we knew we were in a prime position to hit this customer need. We are always striving to create the best and most innovative products with feel good nutrition at the core of everything we do. In recent years we have launched an incredibly successful Keto range and one of the only vegan ready to drink protein shake ranges available in the UK market. We're confident that these new bars will prove as popular. We certainly can't get enough of them in the office!"
The high protein bars will be available in Tesco and Ocado from September 2021, with other retailers to follow. You can also find our full range of products on our website. Our products can also be found in Co-op, Boots, Superdrug, Holland & Barrett, Sainsburys and other leading health food stores.
Get snapping!
We are on Instagram, Facebook, Twitter, Pinterest and have recently joined Tiktok too! We regularly update our content and post all of our latest news, giveaways and promotions on there too. We also LOVE seeing your Pulsin tags, stories and reels! It is amazing to see people enjoy our products. So please make sure to tag us at @pulsinhq for your chance to be featured!
Keep your eyes peeled…
The choc covered fun doesn't stop here… oh no! keep your eyes peeled on our social media pages, marketing emails (sign up in our footer for 15% off your next web order!) and our website for more product launches. You heard it here first!